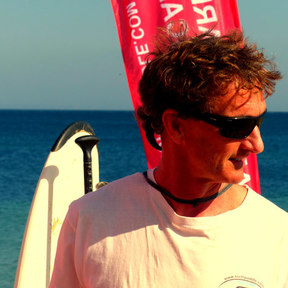 My passion for the ocean started in dinghy sailing from the age of 8 where I was introduced to the Topper, a small basic one man vessel which you could put on your car, in my case my fathers car and go to the beach. Immediately I was hooked and went through a series of dinghy's, including, lasers, tornados, fireballs etc until my mid teens where my brother got me into windsurfing.
Here my life changed forever, I was hooked, all my free time was spent on the water mastering this sport, sometimes driving for hours to find the best conditions. Usually when there was no wind I would go surfing, anything to be on the water.
In my thirties after a career in banking I decided to move over to Portugal, Guincho in fact where I knew there would be some of the best conditions for surfing and windsurfing in Europe. Here I stayed, initially working in banks then later being more involved in tourism.
Today, with a strong background and understanding of the ocean and conditions I have put all my experience into something which I feel very passionate about and believe in, Surfnpaddle. My knowledge from the UK, where I became a qualified instructor allowed me to both work hands on teaching/instructing but developing a successful tourism business.
I look forward to the opportunity to show you our beautiful Portugal coastline and some of the wonderful places you can visit and enjoy.
No followed people